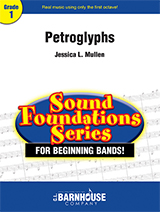 Petroglyphs "Petroglyphs" is the impressive debut work from composer Jessica Mullen. Suitable for first year bands, and with ranges limited to an octave, this exciting piece musically depicts the ancient art of creating images on rock with hammer and chisel. An excellent teaching piece for rhythm and ensemble playing, "Petroglyphs" is a great choice for your first spring concert. Exceptional!
This work is not yet available for sale.
Please check back later this summer to view the score and for the opportunity to add it to your cart.
Until then, enjoy the recording as performed by The Washington Winds under the direction of Edward S. Petersen.
Product
SKU
Price
Quantity
MP3 Download
023-4924-85

$

1.00