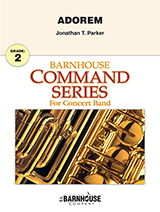 Adorem Jonathan Parker's debut work, "Adorem," is a unique and expressive lyrical composition written for middle and high school bands. Designed to explore a wide range of dynamics and textures, it's an excellent choice for developing blend, balance, phrasing, intonation, and overall musicianship. Sensitively scored, this work is sure to be favorite for performers, conductors, and concert audiences. Highly recommended!
This work is not yet available for sale.
Please check back later this summer to view the score and for the opportunity to add it to your cart.
Until then, enjoy the recording as performed by The Washington Winds under the direction of Edward S. Petersen.
Product
SKU
Price
Quantity
MP3 Download
011-4967-85

$

1.00