Carl Strommen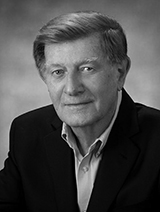 Carl Strommen's contributions to band, orchestra, jazz band and vocal music make him one of the most performed composer/arrangers, nationally and internationally. His music is heard regularly in concert settings, television, and film.
Mr. Strommen is in constant demand as a clinician and commission writer. His prolific and varied output has consistently earned him the annual ASCAP Standard Writers Award. A graduate of the City College of New York, Mr. Strommen keeps in touch with the academic community as an adjunct professor of orchestration and composition at the C.W. Post Campus of Long Island University in Brookville, NY.
Mr. Strommen and his family live in Long Island and regularly spend extended family time in Denver and Boulder, Colorado.
Publications by Carl Strommen