Andrew Hamilton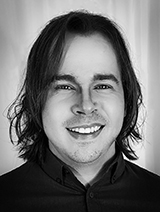 Andrew Hamilton is a composer from Marshfield, Missouri, who has cultivated a rich and diverse musical background through a combination of education, personal interests, and real-world experience. His passion for music began at an early age, eventually leading him to pursue a degree in Music Composition at the University of Central Missouri. While studying under the esteemed composer Dr. Lee Hartman, Andrew developed a solid foundation in the art of composition and honed his unique musical voice.
During his time at UCM, Andrew's dedication and talent were acknowledged when in 2016 he was named a winner of the Tennessee Valley Music Festival Young Composer competition. This served as a valuable learning experience, inspiring him to continue exploring new creative avenues. He would go on to win UCM's High Impact Learning Opportunity grant to write a film score for the 1903 silent film, "The Great Train Robbery."
Growing up with a love for various forms of entertainment and media, Andrew found himself particularly drawn to the music of video games and films. These influences have shaped his compositional style, infusing his work with a sense of storytelling, emotion, and an appreciation for memorable melodies and harmonies.
In addition to his compositional pursuits, Andrew has gained valuable experience as a musician, performing on the tuba in wind ensembles and on the piano in jazz ensembles. These opportunities have provided him with a broad perspective on different musical styles, genres, and ensemble configurations, further enriching his creative output as a composer.
Throughout his career, Andrew has consistently sought to create music that not only engages and challenges performers but also connects with audiences on an emotional level. By drawing on his diverse influences, experiences, and education, Andrew Hamilton has emerged as a composer who is able to craft music that resonates with listeners and leaves a lasting impression.