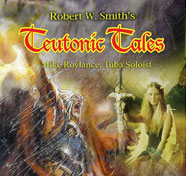 Teutonic Tales
The Washington Winds, Edward S. Petersen, conductor
A remarkable album by Mike Roylance, principal tubist of the Boston Symphony Orchestra. The album features Robert W. Smith's dynamic work for solo tuba and piano entitled "Teutonic Tales" which he wrote especially for Mike Roylance. Also included is Roylance's terrific recording of "Three Piazzolla Tangos" by Astor Piazzolla. Incredible recordings by a true master of his instrument.
CONTENTS:
Teutonic Tales by Robert W. Smith
Mvt 1 – Demon Dance
Mvt 2 – Freya
Mvt 3 – Thor's Hammer
Three Piazzolla Tangos by Astor Piazzolla
Mvt 1 – Milonga del Angel
Mvt 2 – Inverno Porteno
Mvt 3 – Adios Nonino
This album is available only as a digital download. Click here to purchase from theconneXtion.com.