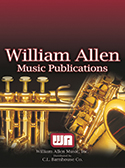 Celestial Trilogy
A dramatic, programatic three movement suite which portrays an imaginative journey through the heavens.
Part 1: Universal Reception – powerful and assertive graphically depicting the awesome forces of intergalactic travel.
Part 2: Moonwatch – peaceful, dream-like mood creating the effect of freely floating through space.
Part 3: Skyscape – vividly portrays a panoramic view of the galaxy.
An outstanding addition to your symphonic band library.
Product
SKU
Price
Quantity
Full set
WA-CB110-00

$

65.00
Extra score
WA-CB110-01

$

6.00