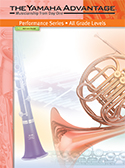 $10.95
Snare Drum solo with piano/CD accompaniment
The simplistic nature of the melody along with the wistful triple meter adds to the charming character of this timeless classic. This arrangement stresses the lyrical quality of the piece in a showcase for a developing instrumental soloist.
Rudiments used include: Swiss Army Triplet, Double Paradiddle, Four Stroke Ruff, Drags, and Rolls.
Program Notes, Form and Analysis, Performance Suggestions, and CD accompaniment are included with solo and piano accompaniment.
Correlated with The Yamaha Advantage TM Book 2 – page 29.
Compatible with SmartMusic.