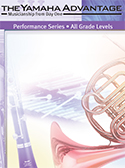 Arietta
$9.95
Eb Alto Saxophone/Eb Baritone Saxophone solo with piano/CD accompaniment
"Arietta" is an original composition specifically written to give beginning instrumentalists an opportunity to play a solo with piano accompaniment. The piece uses only the first 6 notes learned in most band methods and no rhythm more difficult than a quarter note. The lyrical nature of the piece, however, will challenge beginning players as they develop their tone quality and phrasing capabilities.
Program Notes, Form and Analysis, Performance Suggestions, and CD accompaniment are included with solo and piano accompaniment.
Correlated with The Yamaha AdvantageTM Book 1 – page 12.