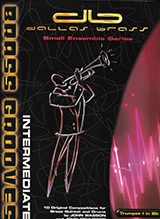 Brass Grooves – Intermediate
A collection of 10 original compositions by Dallas Brass arrangers/composers, John Wasson and John Schuberg. The pieces are written in a variety of music styles from swing to rock. They are scored for brass quintet and drums, but will also work for brass alone.
This is the second volume of Brass Grooves and contain pieces that are less complex technically, and can be tackled by accomplished middle school players. These charts are appealing and fun to play – and listen to – for all ages!
The COMPLETE SET includes books for:
Director, Trumpet I, Trumpet II, Horn, Trombone, Tuba, Drums, and Trombone/Baritone/ Trumpet III substitute for Horn.
Plus a full performance CD recorded by the Dallas Brass
CONTENTS:
Victory March, Lazy Day, First Dance, Fly With Me, Movin' On, The Matador, Boogie Blues, Chillin' Out, Shake It Up, The Chase

Product
SKU
Price
Quantity
COMPLETE SET
DBI-BG2001-00

$

75.00
Conductor book
DBI-BG2002-01

$

24.95
Trumpet I book
DBI-BG2003-24

$

9.95
Trumpet II book
DBI-BG2004-25

$

9.95
Trumpet III Substitute for Horn book
DBI-BG2009-26

$

9.95
Horn book
DBI-BG2005-28

$

9.95
Trombone book
DBI-BG2006-33

$

9.95
Trombone/Baritone B.C. Substitute for Horn book
DBI-BG2010-36

$

9.95
Tuba book
DBI-BG2007-39

$

9.95
Drums book
DBI-BG2008-41

$

9.95
MP3 Download_All CD Tracks
DBI-BG2001-88

$

9.95