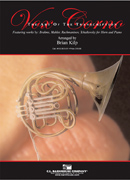 $49.95
This collection of twelve beautiful, lyrical works from master composers of the late classical & romantic eras are have been magnificently transcribed for horn and piano by Brian Kilp. Includes works by Rachmaninov, Brahms, Tchaikovsky, and Mahler, these solos are marvelous recital and contest works for the serious horn player. Book includes F horn solo parts, piano accompaniment, and a full-performance CD performed by arranger Kilp. A perfect collection of solos for the hornist to SING with!
For advanced players .
CONTENTS:
Romance, Opus 6, No. 1 – Sergei Rachmaninov
Elergy, Opus 3, No. 1 – Sergei Rachmaninov
Serenade, Opus 3, No. 5 – Sergei Rachmaninov
Don't Sing In My Presence, Beauty – Sergei Rachmaninov
Prelude, Opus 23, No. 10 – Sergei Rachmaninov
Cello Sonata in G Minor, Mvt. 3 Andante – Sergei Rachmaninov
Meine Liebe Ist Grun, Opus 63, No.5 – Johannes Brahms
None But The Lonely Heart, Opus 6, No. 6 – Pyotr Ilich Tchaikovsky
Von Ewiger Liebe, Opus 43, No. 1 – Johannes Brahms
De Zwei Blauen Augen – Gustav Mahler
Wie Melodien Zieht Es Mir, Opus 105, No. 1 – Johannes Brahms
Click here for additional audio sample.