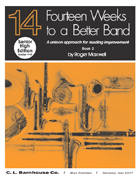 Fourteen Weeks to a Better Band, Book 2
Roger Maxwell has dedicated his music career to writing material which will help students overcome reading barriers. He has conducted extensive research which underscores the need for such materials which will, in turn, help students to better understand the language of music.
C.L. Barnhouse Company is proud to recognize Mr. Maxwell's leadership in music education. His "Fourteen Weeks to a Better Band" Books I and II continue to be valuable classroom tools.
Product
SKU
Price
Quantity
Conductor book
073-1995-01

$

7.95
Flute/Oboe/Bells book
073-1995-04

$

7.95
Bb Clarinet/Bb Bass Clarinet/Bb Tenor Saxophone book
073-1995-08

$

7.95
Eb Alto Saxophone/Eb Alto Clarinet/Eb Baritone Saxophone book
073-1995-20

$

7.95
Bb Trumpet/Baritone T.C. book
073-1995-24

$

7.95
F Horn book
073-1995-28

$

7.95
Trombone/Baritone B.C./Bassoon book
073-1995-33

$

7.95
Tuba book
073-1995-39

$

7.95
Drums book
073-1995-41

$

7.95