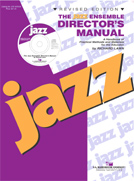 Jazz Ensemble Director's Manual
Completely revised in 1995.
Now includes the most up-to-date information available for jazz educators. New charts, lists and bibliographies have been included as well as a complete chapter on Computers, Technology and Jazz Education. This text is a must for the director with little experience with jazz ensembles or for those wanting to update their skills in areas necessary to create a comprehensive jazz program in your school system. The Jazz Ensemble Director's Manual has been the text of choice in many college jazz classrooms and the new revisions will enhance its continued use. This book is literally loaded with charts, drawings, forms, photographs, tables and music examples and will be a source of information for years to come. It includes a compact disc recording that allows you and your students the opportunity to hear as well as see the musical examples in the "Phrasing and Articulation" chapter. Every practical aspect of establishing a solid jazz program is covered, ranging from the basics of starting an ensemble to effective rehearsal techniques that get the most from your students. From a musical perspective, this text will give you an in-depth understanding of jazz chord notation, phrasing and articulations. It includes a chapter on the jazz combo which presents information on the setting up of a combo in addition to suggested repertoire considered standard for combo training. The publisher index has been revised to reflect recent changes in publishing areas and the extensive bibliography of selected materials for jazz improvisation has been updated to include recent publications. This text had it all…now with a revised edition available, it has even more!
Contains Chapters On: Starting a Jazz Ensemble Program, Jazz Ensemble Instrumentation, The Jazz Combo, Selecting the Music, Ensemble Set- Up, The Jazz Ensemble Conductor, Rehearsal Psychology and Techniques, Phrasing and Articulation, Contest and Concert Preparation, Sound Reinforcement, Understanding Chord Notation, The Rhythm Section, Teaching Basic Jazz Improvisation, Computer Technology and Jazz Education
Product
SKU
Price
Quantity
Jazz Ensemble Director's Manual
070-1976-00

$

21.00
MP3 Download_All CD Tracks
070-1976-88

$

9.95
Extra CD
070-1976-99

$

9.95