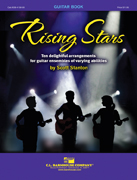 Rising Stars
For Guitar Classes of Varying Levels of Ability
The perfect addition to any guitar class or ensemble with players of varying abilities. Features ten delightful arrangements with a part playable by everyone from a near beginner to more advanced players in styles including rock, folk, latin, and three well known Christmas favorites. Includes regular music notation as well as melody guitar TAB and chord symbols. Arrangements easily repeated for solos by all your budding guitar stars. Add the optional keyboard accompaniment book and the optional bass guitar/percussion book and you've got a the makings of a great little guitar band. Free full MP3 downloads of recordings of all arrangements are included.
Bass guitar parts written in both bass clef and TAB notation for the budding bass player. Percussion book that is mostly for drum set and is playable by younger players. While this book is optional, it will certainly add greatly to the performances of the Rising Star Guitar ensembles and allow you to involve more students at the same time.
Simple keyboard accompaniments to all ten of the arrangement in this unique new guitar ensemble series. This book is optional to the guitar book but certainly will enhance the performances by adding another sound dimension to the arrangements and by providing a solid confident accompaniment for the guitar players. Playable by students as well as teachers.
Click here to view:
Guitar Book
Bass Guitar/Percussion Book
Keyboard Book
Includes songs that can be played during first year of instruction:
Rising Stars - rock style, Key of A (Page 4)
Amazing Grace - country waltz ballad style, Key of A (Page 6)
Beethoven's Beat - rock style, Key of C (Page 8)
Jingle Bells - rock style, Key of G (Page 10)
Old Joe Clark - blue grass style, Key of G (Page 12)
This Little Light of Mine - rock style, Key of G (Page 14)
Up on the Housetop - shuffle or rock style, Key of D (Page 16)
Fire on the Shoreline - rock style (power chords), Key of C (Page 18)
Silent Night - ballad (finger picking style), Key of D (Page 20)
Wade in the Water - Latin-Rock style, Key of Em (Page 22)
Product
SKU
Price
Quantity
Guitar book
038-4158-00

$

11.95
Bass Guitar/B.C./Percussion book
038-4158-33

$

11.95
Keyboard accompaniment book
038-4158-44

$

11.95