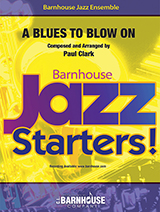 A Blues To Blow On This swinging, easy to play chart sounds great and offers many teaching opportunities. Following the first 24 bars which are in unison, there's a "call and response" section using just the notes from the Bb blues scale. This provides young players with notes that will work while improvising over blues changes in the open solo section, giving them an "I can do this!" sense of confidence. After the solos, the unison saxes enter softly, and crescendo to a roaring shout chorus when the brass joins in. Your young band will love it!
This item is not yet in print. Please check back later to place an order.
In the meantime, please enjoy the posted recording made by The Studio "A" Big Band under the direction of Edward S. Petersen.
Product
SKU
Price
Quantity
MP3 Download
032-5015-85

$

1.00