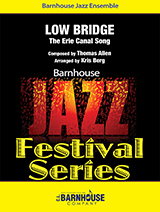 Low Bridge
The Erie Canal Song
Arranged by: Kris Berg "Low Bridge" is the perfect chart for the star bass trombonist in your big band! While written as a bass bone feature, it could alternately be used to feature tuba, bari sax or even bassoon!! Based on the old Low Bridge (Erie Canal) everyone learned in grade school, this Basie-style swinger features a sax soli and optional solo space for piano and/or guitar. This is a great change of pace tune for any festival or concert. Don't miss it!
This work is not yet available for sale.
Please check back later this summer to view the score and for the opportunity to add it to your cart.
Until then, enjoy the recording as performed by Studio "A" Big Band under the direction of Edward S. Petersen.
Product
SKU
Price
Quantity
MP3 Download
032-4964-85

$

1.00