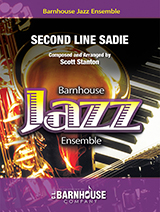 Second Line Sadie Strut your stuff with the excitement of a New Orleans style second line street march. Everybody gets to play the melody! Backgrounds for the solo sections are strong on their own, so the chart can be performed without soloists if needed, or open it up for more fun! There's space for the drummer and bass player to shine, too. Playable with reduced instrumentation, and includes optional parts for clarinet soloist and tuba bass line. Both the band and audience will love it, and go out whistling the tune!
This work is not yet available for sale.
Please check back later this summer to view the score and for the opportunity to add it to your cart.
Until then, enjoy the recording as performed by Studio "A" Big Band under the direction of Edward S. Petersen.
Product
SKU
Price
Quantity
MP3 Download
032-4963-85

$

1.00