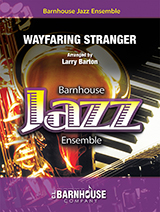 This up-tempo setting of the classic spiritual is fire! From start to finish, "Wayfaring Stranger" is high octane all the way, featuring Larry Barton's signature driving rock feel. Written solidly at the medium easy level, this chart features repetitive rhythms and patterns that will help you get performance ready with a minimum of rehearsal time. Playable with limited instrumentation or full big band, with careful attention to instrument ranges, and written out solos over easy changes, "Wayfaring Stranger" will be accessible to the smallest and youngest ensembles, as well as a lot of fun for more advanced groups. Loaded with performer and audience appeal, this tune is an ideal contest/concert selection. Don't miss this one!
This work is not yet available for sale.
Please check back later this summer to view the score and for the opportunity to add it to your cart.
Until then, enjoy the recording as performed by Studio "A" Big Band under the direction of Edward S. Petersen.
Product
SKU
Price
Quantity
MP3 Download
032-4956-85

$

1.00