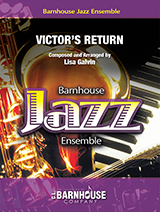 Victor's Return Deeply rooted in the 12-bar blues form, this full ensemble piece will quickly become a favorite for your developing jazz musicians. Providing flexible opportunities to feature up to six soloists across the group, this energetic rock chart with its catchy melody will have everyone's toes tapping and wanting more!
This work is not yet available for sale.
Please check back later this summer to view the score and for the opportunity to add it to your cart.
Until then, enjoy the recording as performed by Studio "A" Big Band under the direction of Edward S. Petersen.
Product
SKU
Price
Quantity
MP3 Download
032-4954-85

$

1.00