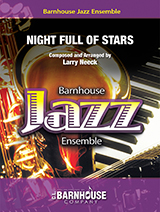 Night Full Of Stars This lyrical rock ballad features your developing alto sax or trumpet soloist. Gorgeous full band interludes compliment the lush solo line, which is sensitively supported by the ensemble. With its expressive themes and soulful sounds, "Night Full Of Stars" provides just the right touch for that change-of-pace moment in your concert.
This work is not yet available for sale.
Please check back later this summer to view the score and for the opportunity to add it to your cart.
Until then, enjoy the recording as performed by Studio "A" Big Band under the direction of Edward S. Petersen.
Product
SKU
Price
Quantity
MP3 Download
032-4949-85

$

1.00