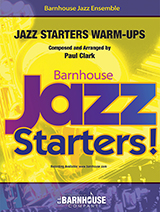 Jazz Starters Warm-Ups Written for young musicians (and possibly directors) who have limited jazz experience, these short and efficient warmups by veteran jazz educator Paul Clark include numerous teaching/learning opportunities which are detailed in the rehearsal suggestions. Special attention was given to the players in the rhythm section, who are often playing instruments in jazz band that are new to them. A wonderful start for your jazz starters, these warmups are very highly recommended!
This work is not yet available for sale.
Please check back later this summer to view the score and for the opportunity to add it to your cart.
Until then, enjoy the recording as performed by Studio "A" Big Band under the direction of Edward S. Petersen.
Product
SKU
Price
Quantity
MP3 Download
032-4941-85

$

1.00