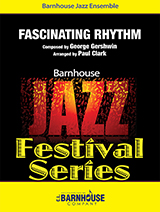 You'll have lots of fun with this creative arrangement by Paul Clark of the Gershwin standard! Includes four short solo spots (two for any sax, plus two for any brass) on simple chord changes are mixed in between lots of swinging ensemble passages. Even the rhythms are fascinating, with a few bars of 5/4, stop-time, and some 2-beat. This one checks all the boxes for showcasing your band. Not to be missed!This work is not yet available for sale.
Please check back later this summer to view the score and for the opportunity to add it to your cart.
Until then, enjoy the recording as performed by Studio "A" Big Band under the direction of Edward S. Petersen.
Product
SKU
Price
Quantity
MP3 Download
032-4938-85

$

1.00