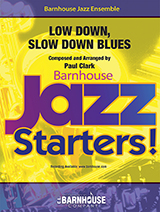 Low Down, Slow Down Blues Jazz music doesn't always have to be higher, faster, & louder – and this chart is proof that you can generate plenty of excitement by laying-back. It's great for teaching your band how to keep a slower tempo without rushing, and the open solo section on Bb blues changes is perfect for building confidence in young improvisers. The background parts sound so full you can play them without the solos if you desire and it will still sound great. A definite winner!
This work is not yet available for sale.
Please check back later this summer to view the score and for the opportunity to add it to your cart.
Until then, enjoy the recording as performed by Studio "A" Big Band under the direction of Edward S. Petersen.
Product
SKU
Price
Quantity
MP3 Download
032-4926-85

$

1.00