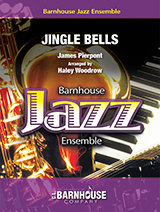 Haley Woodrow gives us a clever twist on one of the most recognizable holiday tunes in the world, "Jingle Bells." A wonderful way to feature every section on the melody, this swing rendition includes an open solo section. Limited ranges allow wide access for bands, and while scored for full big band, it is also playable with just rhythm section and a single trumpet, trombone, alto saxophone, and tenor saxophone, or anything in between. A great way to get in the holiday spirit!
This work is not yet available for sale.
Please check back later this summer to view the score and for the opportunity to add it to your cart.
Until then, enjoy the recording as performed by Studio "A" Big Band under the direction of Edward S. Petersen.
Product
SKU
Price
Quantity
MP3 Download
032-4806-85

$

1.00