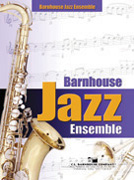 Vamoose Your Caboose
A wonderful chart for young to mid-level bands at a medium swing tempo. Very tasty writing that includes an open solo section and extremely well notated rhythm section parts. VERY NICE!
May be performed with a minimum instrumentation of 2 Altos, 1 Tenor, 2 Trumpets, 1 Trombone, Piano, Bass, Drums.
Product
SKU
Price
Quantity
Full set
031-3039-00

$

50.00
Extra full score
031-3039-01

$

8.00
MP3 Download
031-3039-85

$

1.00