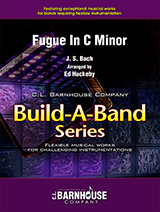 This classic Bach fugue is ideal for bands of all sizes and skills, but especially adapted for those with limited instrumentation desiring to challenge their developing musicians. It is also appropriate for very small ensembles, having been carefully crafted by the arranger to work well with as few as five performers. The required independence of parts provides opportunities for developing technical and musical skills while also presenting the option for performance of a masterwork from the Baroque era. The final product will be well worth the effort in developing and enhancing the overall musicianship of your performers. Great music!
This work is not yet available for sale.
Please check back later this summer to view the score and for the opportunity to add it to your cart.
Until then, enjoy the recording as performed by The Washington Winds under the direction of Edward S. Petersen.
Product
SKU
Price
Quantity
MP3 Download
026-4957-85

$

1.00