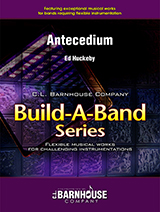 Antecedium "Antecedium" was Ed Huckeby's first published work, and this magnificent, high-energy overture has been a staple of concert and festival performances ever since. The modal melodies and harmonies provide a uniquely contemporary style when combined with the fresh changing meter elements. The composer has creatively adapted this work for the "Build-A-Band" series, to allow for performance by ensembles with limited or unusual instrumentation. This is a must have!
This work is not yet available for sale.
Please check back later this summer to view the score and for the opportunity to add it to your cart.
Until then, enjoy the recording as performed by The Washington Winds under the direction of Edward S. Petersen.
Product
SKU
Price
Quantity
MP3 Download
026-4955-85

$

1.00