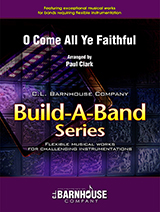 If your holiday audiences seem to have "settled down for a long winter's nap," you can wake them up with this exciting arrangement of a seasonal classic! Fresh harmonies and driving rhythms combine to give this holiday chestnut new life. A guaranteed energizer for your holiday concerts!
This work is not yet available for sale.
Please check back later this summer to view the score and for the opportunity to add it to your cart.
Until then, enjoy the recording as performed by The Washington Winds under the direction of Edward S. Petersen.
Product
SKU
Price
Quantity
MP3 Download
026-4932-85

$

1.00