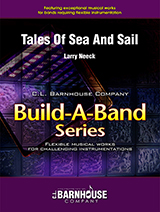 Tales of Sea and Sail This sparkling medley of sea chanteys offers many familiar melodies and provides plenty of interest and opportunities for each section to really shine. Familiar tunes include "A Roving," "Blow the Man Down," "Rio Grande," "Shenandoah," "Drunken Sailor," and "Santy Anna."
A great vehicle to showcase your band, even if your ensemble has size or instrumentation limitations.
This work is not yet available for sale.
Please check back later this summer to view the score and for the opportunity to add it to your cart.
Until then, enjoy the recording as performed by The Washington Winds under the direction of Edward S. Petersen.
Product
SKU
Price
Quantity
MP3 Download
026-4925-85

$

1.00