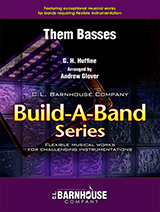 Who says bass instruments never get the melody? This classic march – and please forgive the ungrammatical title – gives the melody to the basses all the way through! Perhaps no other march is better suited to the "Build-A-Band" flex/limited instrumentation format. "Them Basses" is a guaranteed hit for musicians and audiences alike. Outstanding!
This work is not yet available for sale.
Please check back later this summer to view the score and for the opportunity to add it to your cart.
Until then, enjoy the recording as performed by The Washington Winds under the direction of Edward S. Petersen.
Product
SKU
Price
Quantity
MP3 Download
026-4919-85

$

1.00