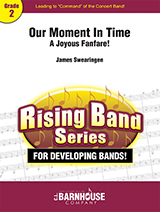 Our Moment In Time
A Joyous Fanfare! If you're looking for a grade 2 piece that produces impact at the start of your concert, then you'll definitely want to consider this outstanding work by celebrated composer James Swearingen. Brass, woodwinds and percussion all unite with the playing of a glorious fanfare. The best is yet to come, with wonderful themes that are layered over driving rhythms. The dramatic ending is a "wait and see moment" for what is sure to be an enthusiastic response by the entire audience. A glorious moment for one and all!
This work is not yet available for sale.
Please check back later this summer to view the score and for the opportunity to add it to your cart.
Until then, enjoy the recording as performed by The Washington Winds under the direction of Edward S. Petersen.
Product
SKU
Price
Quantity
MP3 Download
024-4985-85

$

1.00