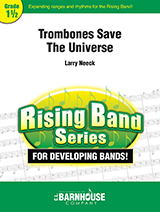 Trombones Save The Universe The universe in in peril, and it's the trombone section to the rescue! The clever theme features the trombones at their finest, a strong and powerful statement with characteristic glissandi included, while the rest of the band gets plenty of opportunities to shine. Providing a great change-of-pace moment for your concert, this fun and novel piece will be a hit with students and audience alike!
This work is not yet available for sale.
Please check back later this summer to view the score and for the opportunity to add it to your cart.
Until then, enjoy the recording as performed by The Washington Winds under the direction of Edward S. Petersen.
Product
SKU
Price
Quantity
MP3 Download
024-4978-85

$

1.00