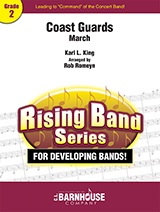 Karl King's classic "Coast Guards" March is one of his most tuneful and playable marches. This version has been carefully adapted for young bands with a smaller instrumentation. The full effect of the original has been preserved, making this a fine choice to introduce your students to the style of the march, and to the music of Karl King. A perfect concert opener, festival selection, or toe tapping crowd pleaser!
This work is not yet available for sale.
Please check back later this summer to view the score and for the opportunity to add it to your cart.
Until then, enjoy the recording as performed by The Washington Winds under the direction of Edward S. Petersen.
Product
SKU
Price
Quantity
MP3 Download
024-4975-85

$

1.00