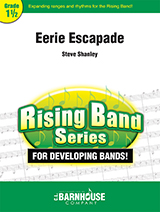 Eerie Escapade Take your beginning band on a mysterious adventure with this piece, reminiscent of the great film scores by Danny Elfman. Percussionists have the opportunity to shine on some less-common instruments (vibraslap, guiro, claves), and all sections of the woodwinds and brass are showcased in different combinations throughout. A perfect Halloween-themed concert piece!
This work is not yet available for sale.
Please check back later this summer to view the score and for the opportunity to add it to your cart.
Until then, enjoy the recording as performed by The Washington Winds under the direction of Edward S. Petersen.
Product
SKU
Price
Quantity
MP3 Download
024-4944-85

$

1.00