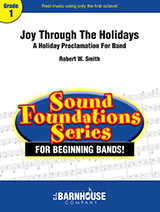 Joy Through The Holidays
A Holiday Proclamation For Band "Joy Through The Holidays" is a joyous opening statement for your holiday concert! Drawing upon classic favorites, this arrangement by Robert W. Smith is carefully scored to make your young musicians sound brilliant. A perfect proclamation to begin the season of celebration and joy!
This work is not yet available for sale.
Please check back later this summer to view the score and for the opportunity to add it to your cart.
Until then, enjoy the recording as performed by The Washington Winds under the direction of Edward S. Petersen.
Product
SKU
Price
Quantity
MP3 Download
023-4991-85

$

1.00