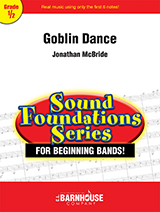 Goblin Dance "Goblin Dance" for beginning band uses only the first six notes learned in band instruction, and is an ideal bridge from method book exercises to concert music! Unison themes are introduced so each member of the band gets to play the melody, before dividing into melody and harmony provided by the low brass and woodwinds. A second theme is introduced in unison, followed by the Goblin Dance finale when all three parts: melody, harmony, and second theme join together for an exciting and mature-sounding finish. You and your bands will enjoy working on this catchy and rhythmic beginning band piece that your audiences will love. Spooky fun!
This work is not yet available for sale.
Please check back later this summer to view the score and for the opportunity to add it to your cart.
Until then, enjoy the recording as performed by The Washington Winds under the direction of Edward S. Petersen.
Product
SKU
Price
Quantity
MP3 Download
023-4945-85

$

1.00