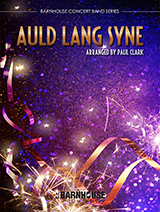 Perhaps the oldest song of friendship, Robert Burns wrote the words to "Auld Lang Syne" in 1788 and set them to music using the melody of a previously existing Scottish folk song. This tune was later changed to the version most often heard today. Both melodies are presented here in this masterful Paul Clark arrangement that musically evokes warm memories of the past, and a positive feeling of friendship and hope for the future. Opportunities for musicality and expressive playing make it appropriate for bands of a wide range of experience. "Auld Lang Syne" is the perfect closing selection for your Holiday -or any – concert!
This item is not yet in print. Please check back later to place an order.
In the meantime, please enjoy the posted recording made by The Washington Winds under the direction of Edward S. Petersen.
Product
SKU
Price
Quantity
MP3 Download
012-5039-85

$

1.00