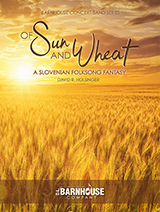 Of Sun And Wheat
A Slovenian Folksong Fantasy This Slovenian Folksong Fantasy contains all the David Holsinger compositional trademarks: rich sonorities, rambunctious rhythms, soaring lines and a closing fusion of melodic gestures that yearns to be played with wild abandon! Not for the faint of heart! A powerful work for mature bands!
This work is not yet available for sale.
Please check back later this summer to view the score and for the opportunity to add it to your cart.
Until then, enjoy the recording as performed by The Washington Winds under the direction of Edward S. Petersen.
Product
SKU
Price
Quantity
MP3 Download
012-4988-85

$

1.00