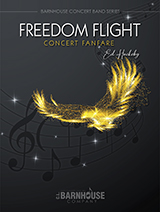 Freedom Flight
Concert Fanfare Commissioned by the El Dorado, Kansas Municipal Band to commemorate its centennial concert season, this dramatic concert fanfare is a magnificent show-stopper! The bold interplay between brass, woodwinds and percussion provides each section a leading role in this incredibly heroic and energetic work, making it an important and highly effective addition to concert band repertoire, especially as a concert opener or closer. This masterful work by Ed Huckeby is destined to become a standard which will endure the test of time! Brilliant!
This work is not yet available for sale.
Please check back later this summer to view the score and for the opportunity to add it to your cart.
Until then, enjoy the recording as performed by The Washington Winds under the direction of Edward S. Petersen.
Product
SKU
Price
Quantity
MP3 Download
012-4984-85

$

1.00