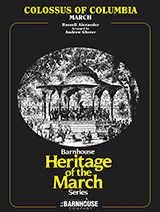 One of the truly great standard American marches is Russell Alexander's "Colossus of Columbia." This edition for the Barnhouse "Heritage of the March" series presents this classic march in a concert edition, adhering closely to the original 1901 publication. Toes will be tapping as your band plays this exciting and powerful march. Our highest recommendation!
This work is not yet available for sale.
Please check back later this summer to view the score and for the opportunity to add it to your cart.
Until then, enjoy the recording as performed by The Washington Winds under the direction of Edward S. Petersen.
Product
SKU
Price
Quantity
MP3 Download
012-4983-85

$

1.00