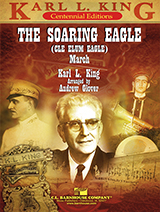 Karl King was a true American march master, and "The Soaring Eagle" is one of his finest and most tuneful marches! Memorable melodies, exciting countermelodies, and woodwind obbligatos combine to make this an outstanding choice for mature bands. Originally entitled "Cle Elum Eagles," this edition for the Karl L. King Centennial Series provides a wealth of historical and performance material, as well as background on this great march. One of the "King's" best!
This work is not yet available for sale.
Please check back later this summer to view the score and for the opportunity to add it to your cart.
Until then, enjoy the recording as performed by The Washington Winds under the direction of Edward S. Petersen.
Product
SKU
Price
Quantity
MP3 Download
012-4982-85

$

1.00