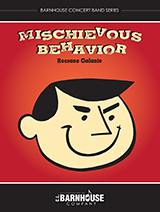 Mischievous Behavior "Mischievous Behavior" is an adrenaline-charged composition filled with comedic, playful themes and pulsating rhythmic accompaniment. Audiences will get their blood pumping while hearing this piece! An amusing, musical offering certain to delight audiences and performers alike!
This work is not yet available for sale.
Please check back later this summer to view the score and for the opportunity to add it to your cart.
Until then, enjoy the recording as performed by The Washington Winds under the direction of Edward S. Petersen.
Product
SKU
Price
Quantity
MP3 Download
012-4939-85

$

1.00