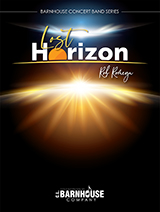 Lost Horizon From the pen of Rob Romeyn comes this powerful and dramatic programmatic work that sounds straight out of a blockbuster movie soundtrack! The music begins with a delicate statement presented by a solo flute, answered by a solo clarinet soaring above transparent harmonies, leading to a beautiful expressive section. From here, the music takes off with an aggressive display of emotion and power, captivating the audience with high intensity. Multiple sections of the ensemble are featured melodically and harmonically as we continue our journey. Many changes in dynamics, harmonic structure, textures, and varied scoring techniques not only enhance the excitement, but make this an outstanding teaching piece. After a breathtaking climax, the expressive section returns, more developed this time. The piece then ends aggressively, sure to have your audience on the edge of their seat until the last note. Don't miss this significant addition to the concert band repertoire!
This work is not yet available for sale.
Please check back later this summer to view the score and for the opportunity to add it to your cart.
Until then, enjoy the recording as performed by The Washington Winds under the direction of Edward S. Petersen.
Product
SKU
Price
Quantity
MP3 Download
012-4934-85

$

1.00