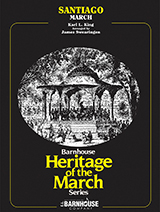 Throughout time, the marches of Karl King have graced many concert halls in countless number of countries. His uncanny ability to generate a positive response from audiences of all ages is a testimony to his creative talents. Couple that with James Swearingen's solid scoring and the rest is, as they say, the perfect combination of musical genius. Prepare yourself for a highly enthusiastic response from both your musicians and audience. Highly Entertaining!
This work is not yet available for sale.
Please check back later this summer to view the score and for the opportunity to add it to your cart.
Until then, enjoy the recording as performed by The Washington Winds under the direction of Edward S. Petersen.
Product
SKU
Price
Quantity
MP3 Download
012-4906-85

$

1.00