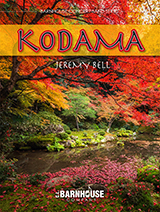 Kodama Experience the beauty of the Japanese countryside in this lyrical work depicting the forest spirits called Kodama. Shintoism believes that everything from pebbles, animals, and plants, to forces of nature like the wind or a river contains a distinct spiritual essence or kami. It teaches a respect and reverence for everything in the natural world. Kodama captures this essence, making heavy of use of pentatonic scales associated with Japanese folk music and emulating the style that makes it so unique. A beautiful and picturesque work!
This work is not yet available for sale.
Please check back later this summer to view the score and for the opportunity to add it to your cart.
Until then, enjoy the recording as performed by The Washington Winds under the direction of Edward S. Petersen.
Product
SKU
Price
Quantity
MP3 Download
012-4845-85

$

1.00