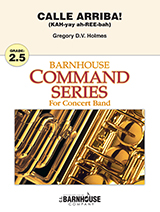 Calle Arriba!
(KAH-yay ah-REE-bah) You won't be able to resist moving and dancing to the Latin beat of "Calle Arriba!" Calle Arriba is a real place, and there is a small-town block party happening in the countryside. An infectious pulse driven by percussion calls to all ages to come dance. The sun has set, but the heat has not – and when the samba whistle blows, EVERYBODY DANCES! This exciting, vibrant, and fun debut work by Gregory D. V. Holmes will be the audience favorite at your next concert!
This work is not yet available for sale.
Please check back later this summer to view the score and for the opportunity to add it to your cart.
Until then, enjoy the recording as performed by The Washington Winds under the direction of Edward S. Petersen.
Product
SKU
Price
Quantity
MP3 Download
011-4951-85

$

1.00