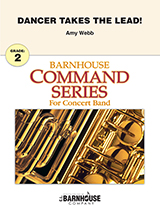 Dancer Takes The Lead! We all know about Rudolph the Red-Nosed Reindeer, but have you ever wondered if the other reindeer are jealous of him? Well, one reindeer is, Dancer – and now he gets to have his own music! The happy jazz feel and cool swing beat present Up on the Housetop as you've never heard it before! Finger-snapping fun for the entire band. This will be the hit of your holiday concert!
This work is not yet available for sale.
Please check back later this summer to view the score and for the opportunity to add it to your cart.
Until then, enjoy the recording as performed by The Washington Winds under the direction of Edward S. Petersen.
Product
SKU
Price
Quantity
MP3 Download
011-4943-85

$

1.00