Vaibhav Mohanty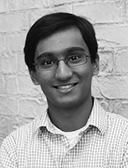 Vaibhav Mohanty (b. 1998) is a composer, arranger, pianist, saxophonist, and music theorist from Charleston, South Carolina studying at Harvard University. His compositions span classical, world, and jazz domains and are performed across the United States and internationally.
His compositions have been awarded and acclaimed at the national and international level. He has received the Grand Prize from the Sul Ross State University Wind Ensemble Composition Competition (an international contest) and second place in The American Prize for Concert Band Composition. In 2014, he was named a winner of the National Association for Music Education (NAfME) Student Composers Competition, meriting his piece a performance at the Grand Ole Opry House in Nashville, Tennessee by the NAfME All-National Honor Band. In the 2015 National YoungArts Foundation competition, he was named a Finalist, an award given only to the top two composers that year. In that same year, his music was performed at the Society of Composers, Inc. (SCI) 50th Anniversary National Conference. Vaibhav is also a four-time awardee in the National Parent Teachers Association Reflections Contest, a finalist in the Music Teachers National Association Composition Competition, and an honorable mention recipient from the American Society of Composers, Authors, and Publishers (ASCAP) Morton Gould Young Composer Awards. His composition Rhapsody No. 1 for alto saxophone and piano, written for saxophonist Jake Tilton, was performed at the 2018 Society of Composers, Inc. (SCI) National Conference. The debut recording is featured on the 32nd Volume of the SCI CD Series (Navona Records).
Vaibhav has been a member of the ASCAP since 2013 and the SCI since 2014. He has taught music at the Charleston County School District summer arts program and at a private music studio in Charleston. He actively researches mathematical descriptions of optimized voice-leading in the context of neo-Riemannian music theories. Vaibhav is currently Co-President of the Harvard Composers Association.