Steven Wampler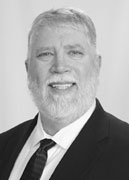 Steven Wampler has over 30 years as an educator with high school and elementary school bands. He has a B.S. and M.M. in Music Education from the University of Connecticut with an emphasis on Wind Conducting, and has taught in the Fairfax County Public School System in Virginia and the Howard County Public School System in Maryland. He also taught high school in Connecticut and Vermont.
He served as an Army bandsman, and is the Music Director of the Montgomery Village Community Band in Montgomery Village, MD where he is the Director of the MVCB Jazz Band. Mr. Wampler has been the band director at Elkridge Elementary School since 2003.
In addition, Mr. Wampler has composed over 20 pieces for elementary and middle school concert band. He has also composed for strings and full orchestra. In addition to his musical activities, he has played in the World Series of Poker Final Event, and is a student of history.