Patrick Burns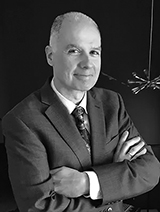 Patrick J. Burns (b. 1969) has served as Adjunct Professor of Music at Montclair State University in New Jersey since 1994, where he teaches courses in music theory, orchestration, and composition, and since September 2011 has been Director of the New Jersey City University Symphony of Winds and Percussion. As a clarinetist, Mr. Burns has performed with many professional ensembles in the New York metro area including the Metropolitan Opera Summer Ballet Orchestra, the pit orchestra for the Broadway revival production of Camelot starring Robert Goulet, and with the New Jersey Chamber Music Society in broadcasts for National Public Radio and New Jersey Network Television. After teaching for 15 years in the Caldwell-West Caldwell Public Schools, Mr. Burns is currently employed by Ackk Studios as orchestrator for the company's video projects. Recently, several of his orchestrations were recorded by the Prague FILMharmonic Orchestra, with more planned for late-2023.
In 1986, at the age of seventeen, Mr. Burns founded the Bloomfield Youth Band, a community wind ensemble of some 50 secondary school and collegiate musicians which he continues to direct today. The Youth Band has been recognized for its outstanding artistic achievements and service to the community by the United States Congress, the New Jersey Legislature and the Mayor and Town Council of Bloomfield. His compositions for symphonic band are performed by bands of every level throughout the country. The United States Army Band, "Pershing's Own", has performed his music in Washington, D.C. and at Carnegie Hall. His music has also been performed by conservatory and military bands in Sweden, Russia, Japan and China. Mr. Burns is former director of the Montclair State University Youth Orchestra and the Imperial Brass. He has been featured as guest conductor and clinician with public school, community, university, region and all-state bands and orchestras in New Jersey, New York, New Hampshire, Pennsylvania, Maryland, Delaware, Virginia, West Virginia and Ohio and has recorded albums and concertized with world-renowned brass artists Philip Smith, Billy Hunter, Warren Vaché, Roger Webster and Chris Jaudes.
Patrick Burns' music for symphonic band is published by Bandworks Publications, G. Schirmer, Daehn Publications, Grand Mesa Music Publishers, FJH Music, Wingert-Jones Music, and TRN Music Publisher. His music has appeared on Bandworld magazine's Top 100 list of band compositions six times. The Instrumentalist and School Music News have printed numerous favorable reviews of Mr. Burns' band music and The Classical New Jersey Society Journal has praised his chamber music. He has received performances at The Midwest Clinic in Chicago and has been recorded for the educational series Distinguished Music for the Developing Band. He has received commissions from dozens of organizations including the Goldman Band/Harvey Phillips Foundation, The Ohio Northern University chapter of Kappa Kappa Psi, the Bel Air (Maryland) Community Band, the SoundTree Corporation and The Salem Band (North Carolina) to commemorate the 250-year anniversary of the ensemble's founding.
From 2003-2010 and since 2013, Mr. Burns served as president of the Bloomfield Federation of Music. In March 2010, he founded his own publishing company, Bandworks Publications, which he continues to operate today. His music can be heard at his website, www.bandworkspublications.com, and www.youtube.com/patrickburnsmusic.
Publications by Patrick Burns