Mollie Budiansky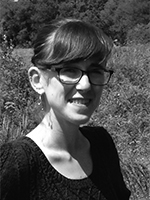 With favorite themes of nature and aviation, Mollie Budiansky writes music rooted in stories and sound worlds alike. Her beginnings as a clarinetist and saxophonist led her to the world of wind band and music education, where she has enjoyed creating commissioned music for bands both large and small.
She is a strong advocate for making the practice of composition accessible to students across all levels, and has developed and taught composition workshop curricula to small groups with varying musical backgrounds. She has also served as an arranger for Berkeley Symphony's Music in the Schools program, in which public elementary school music students in Berkeley, California play alongside members of their neighboring professional orchestra.
Born and raised in the San Francisco Bay area, Budiansky began her undergraduate work at Oberlin College and completed her Bachelor of Music in composition at the New England Conservatory, where she studied with Michael Gandolfi. Previously she studied privately with Elinor Armer.
Budiansky is a member of the American Society of Composers, Authors, and Publishers (ASCAP).  Her other pursuits include field recording and sound collage, and an online music-centric comic series called Ad Libitum.